66th Annual
Blessing of the Fleet
The 2015 Blessing of the Fleet is made possible by the
Shipbuilders of Bayou La Batre & Coden
with all advertising provided by
The City of BaYou La Batre
The custom of the Blessing of the Fleet can be traced back to Old World European fishing communities where God was publicly acknowledged and asked for a bountiful harvest and the safety of the men at sea....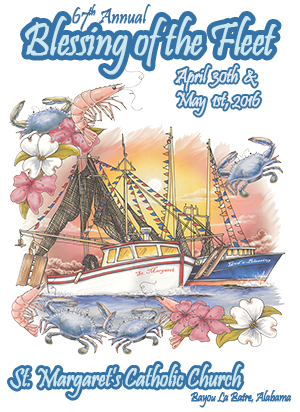 Blessing of the Feet
This 4-mile run and 1-mile fun run will kick-off the festival on Saturday morning.

Get ready to RUUUN!!!





Cash Raffle & Quilt Raffle
Purchase raffle tickets all weekend.
All drawings held Sunday at 4pm.


(About the quilt)




Blessing of the Fleet Gumbo Cook-off will be held Saturday, May 2nd. Contestants register today and start planning for the competition. Get your "ROUX ON" and join us for a tasty fun day! (read more)






Fleet Blessing Prayer
"May God in Heaven fulfill abundantly the prayers which are pronounced over you and your boats and equipment on the occasion of the Blessing of the Fleet. God bless your going out and coming in; The Lord be with you at home and on the water. May he accompany you when you start on your many journeys: May he fill your nets abundantly as a reward for your labor; And may he bring you all safely in, when you turn your boats homeward to shore.... Amen"